Consultation – We bring our showroom to you. Experienced consultants will visit your home or office for a one-on-one consultation to help you determine the window treatment just right for you. No fees and no obligation.
Installation ­ Our trained technicians will ensure your blinds and drapes are installed with the utmost care.
Guarantee – NULOOK blinds are covered by a limited 5-year guarantee on track and hardware. Fabric is guaranteed for one year. Ask our salespeople for details.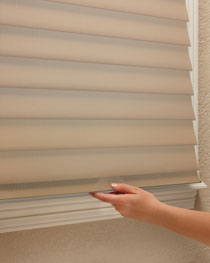 SERVICE
Our service begins with consultation and or quotations from drawings, and continues with accurate site measurements, professional installation and after sales service. We understand the importance of punctual delivery and Nulook can be trusted with projects of any size.

CLIENTS
We work with Hospitals, Nursing Homes, Retirement and Long Term Care Facilities, Colleges and Universities. Nulook also works together with architects, designers, executive level clients and contractors who can attest to our expertise.
OUR PRIVACY STATEMENT
Nulook Blinds and Draperies is committed to respecting the privacy of individuals and recognizes the need for the appropriate management and protection of any personal information that you agree to provide to us. We will not share your information with any third party outside of our organization, other than as necessary to fulfill your request.